~ Exercise of the Week ~ Twisting Reverse Lunge ~ The twisting reverse lunge wi…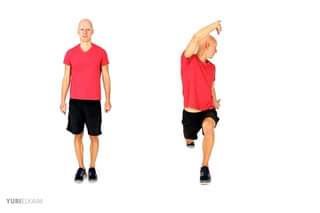 ~ Exercise of the Week ~ Twisting Reverse Lunge ~
The twisting reverse lunge will help open up your hip flexors and tight abdominal muscle. It also provides a good challenge of your balance.
From a standing
position take a long step back with your left foot, drop down into a lunge, and then twist and extend, over your right leg. Then, return to standing.
Repeat with the other leg for a total of 10 reps. Hold a medicine ball in your outstrecthed arms for an even better stretch.